Print
Ti - 12" x 2.00" 4-VJet 2-Bend LP w/SG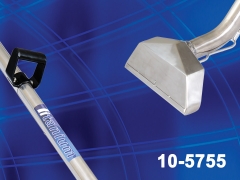 Ti - 12" x 2.00" 4-VJet 2-Bend LP w/SG
Product SKU:10-5755
Product Price:$ 750.00
Product Description :
Complete Titanium Wand
4-jet wand for even spray pattern.
Full 2" maximum flow vacuum tube for ultimate extraction.
2" hose has direct connection.
12" Head with low profile to reach under furniture, only 3.6" high.
Stainless Steel control valve with "soft opening" feature.
Stress-free oval shaped steel grip.
Stainless steel solution lines.
Full flow vacuum extraction.
Precision 95015/110015 nozzles (2ea) for optimal coverage and performance.
Splashguard.
2" Diameter Tube.
12" Head Width.
63" Height.
7 Lbs.